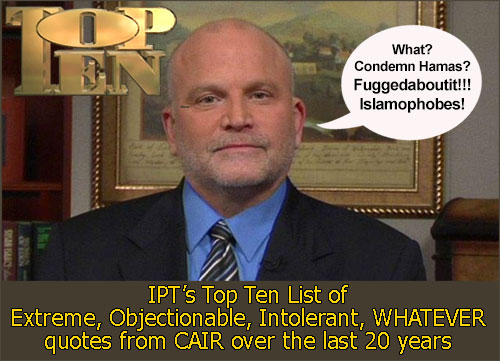 In a heated exchange last week, Ibrahim Hooper – national spokesman for the Council on American-Islamic Relations (CAIR) – issued a put up or shut up kind of challenge to his organization's critics.
Hooper was pressed by Fox News host Megyn Kelly about CAIR's record of failing to condemn terrorist groups like Hamas and Hizballah and other questionable positions. Hooper tried to deflect, blaming "Internet hate sites" for fueling "hate-filled smears against CAIR, which was founded in 1994.
"Please find something that CAIR has done or said in those 20 years that you find either extreme, objectionable, intolerant, whatever," Hooper said.
Don't mind if we do.
We've documented CAIR's dubious record for years, noting in a 2009 report that the group responds to the very kind of specific examples Hooper demands to see by issuing ad hominem attacks against the messenger.
So, in a decidedly-less funny tribute to Late Show host David Letterman's pending retirement, here are the IPT's top 10 examples of "extreme, objectionable, intolerant, whatever" actions by CAIR. Together, they undermine CAIR's credibility as a mainstream, reliable arbiter in the debate about terrorism, extremism and the treatment of Muslims in America:
You'll have to provide your own drumroll.
Please read the top ten right HERE