"I don't give a damn what you muslims vote on in your stinking rat holes, but don't you dare come into my country and tell me what I can and cannot say. Always remember scumbags...my first amendment is protected by the second."



- BlackbootJack
CONTACT US:
admin@infideltaskforce.com


MAY 21 2013
Oh for crying out loud!!

Maybe she should change her name to Hamida Jackson. Or Halal Gold Digger.
Janet Jackson has converted to Islam, just like her Farrakhan acolyte bro, Jermaine Jackson (father to Jermajesty), in order to marry her Qatari billionaire fiance, Wissam Al Mana. Now, she will know what it's like to be treated like an "abda"–a slave–since that's how they look at Black people in the Muslim world. Yes, even the Jacksons.
Most White Muslims refer to Blacks–yes, even Black Muslims–as "abeed." Literally it means "slaves" in Arabic, but it's derogatory and the Arabic version of the N-word. "Abed" is the singular version of the word, and "abda" is the female version of the word. There is tremendous racism against Black people in the Islamic world, which is why they continue to slaughter Blacks in Sudan. First, the Sudanese Arab Muslims raped, tortured, and slaughtered the Black Christians, and then–when there were almost no Christians left, they began to rape, torture, and slaughter the Black Muslims of Sudan (and,

when Muslims were being murdered, George Clooney and Angelina Jolie suddenly got concerned

).
Well...Good Luck with that one Janet!!

Israeli settlers on their morning commute got quite the eyeful Monday morning when they saw a swastika-emblazoned red flag flying near a mosque in Beit Omar, a Palestinian village outside of Hebron.
Thousands of residents of Jewish settlements near Hebron and Bethlehem in Judea (the southern West Bank) drive to and from work on the road from which the flag was visible.
The Tazpit News Agency, which photographed the flying Nazi flag, reports residents "were astounded" to see the symbol under which millions of Jews were massacred during World War II now being prominently displayed by residents of a Palestinian town.
Uri Arnon, who saw the flag, told Tazpit News Agency: "I felt we were going back 75 years, losing our hold on the land. The Arabs no longer feel the need to hide their murderous tendencies, announcing out loud that they wish to destroy us."
To date, preparations for the trial of accused Fort Hood shooter Nidal Hasan have cost the government at least $278,000 — and that's just in the salary that Hasan received since the 2009 massacre.
NBC's Dallas affiliate, KXAS, reports that Hasan, who at the time of the shooting was working as an Army psychiatrist, has continued to receive his salary for the past 42 months.
The Army

said under the Military Code of Justice, Hasan's salary cannot be suspended unless he is proven guilty.
If Hasan had been a civilian defense department employee, NBC 5 Investigates has learned, the Army could have suspended his pay after just seven days.
According to witnesses, Hasan shouted "God is great" in Arabic before opening fire, repeatedly targeting soldiers that had already been wounded. Thirteen people were killed and 30 wounded.
Despite those apparent details, however, the government doesn't classify the event as an act of combat or terror. According to the government, the shooting was "workplace violence" — meaning that the injured aren't entitled to additional pay or Purple Heart designations. Several members of Congress have written to Defense Secretary Chuck Hagel, asking for the event to be redesignated.
A number of the victims of the attack report that they were made personal promises by senior

government officials

that they and their family members would be "well taken care of" and that the "

government

will make [them] whole." We believe that in the aftermath of the terrorist attack at

Fort Hood

… the decision to deem the incident "workplace violence" was an irresponsible, indefensible breach of our nation's sacred pledge to our service members.
The Congressmembers also accuse Defense of kowtowing to "political correctness" in not designating the attack as a terror attack.
It's not likely that the KXAS report will result in Hasan losing his salary. For one thing, the stipulation that he continue receiving his salary stems from the Uniform Code of Military Justice. For another, Hasan receiving his salary was first reported back in 2011 by the ABC affiliate near Fort Hood. The commander of the facility explained the rationale.
Campbell said it's all part of the judicial process that says Hasan is innocent until proven guilty

.
"The bottom line is when you cut through everything we are as an army, we have to be fair to him regardless of what we saw or we think we saw or whatever the case may be. It's imperative we maintain the integrity of the court martial so he gets as fair a shot as possible defending himself with his team," Campbell added.
Testimony in the trial will finally begin on July 1. By then, the salary Hasan has received since his arrest will likely top $290,000.
The message is loud and clear: If you are a Muslim, and you object to speech you don't like, you can react with violence, because government authorities will reward your violence by muzzling the speech you don't like.
Don't forget....this provision promoting support for violence over free speech, only pertains to minorities such as Muslims. Anyone else...especially the average American....will be put in jail.
This judge should be disbarred and removed from the bench. The Sheriff should be removed from office and the muslims causing the violence should be put in jail.
Someone ...PLEASE...forward this to Bill O'Reilly!!

A federal judge has issued a startling ruling that suppressing Christian speech is allowed when Muslims threaten violence because they're upset over the message.
The ruling from Judge Patrick J. Duggan in the U.S. District Court for the Eastern District of Michigan granted Wayne County's motion for summary judgment of a lawsuit brought by a team of Christians who were badgered, bullied and targeted with garbage thrown by Muslims who disliked their message at last year's Arab Fest in Dearborn, Mich.
Officials with American Freedom Law Center, who have been arguing the case on behalf of the Christians, also said the judge denied AFLC's motion requesting that the court issue an order preventing the Wayne County Sheriff and his deputies from restricting the Christian evangelists from displaying their banners and signs on the public sidewalks outside of this year's Arab Festival.
It is scheduled for June.
In his ruling, Duggan said, "The court finds that the actual demonstration of violence here provided the requisite justification for [the Wayne County sheriffs'] intervention, even if the officials acted as they did because of the effect the speech had on the crowd."
The case had been filed by the AFLC after several Christian evangelists were violently assaulted by a hostile Muslim mob while preaching at the festival last year in Dearborn, which has the largest concentration of Muslims in the United States.
The lawsuit, which will be appealed to a higher court, alleged the county, sheriff and deputies refused to protect the Christians from the attack, and they threatened to arrest the Christians for disorderly conduct if they did not halt their speech activity and immediately leave the festival area.
Read the rest please

....
.HERE
Its about time!!
MEIKHTILA, Myanmar (AP) — A Myanmar court sentenced seven Muslims to prison Tuesday — one of them to a life term — in the killing of a Buddhist monk amid deadly sectarian violence that was overwhelmingly directed against minority Muslims but has not led to any criminal trials against members of the country's Buddhist majority.
As the country tries to rebuild democracy after decades of military rule, the issue poses a dilemma for politicians who would lose support if they embraced justice for the unpopular Muslim minority. Opposition leader Aung San Suu Kyi, who spent years under house arrest under the former ruling junta but now hopes to bring her party to power, spoke of the law but not of sectarian tensions when asked about the verdict.
Speaking at a conference in Milan, Italy, on May 8, 2013, that city's archbishop, Cardinal Angelo Scola, called for the abolition of blasphemy laws worldwide. Such a step would significantly help protect globally the freedom of speech and religion desperately needed by Christians in particular while countering Islamic fanaticism with freedom.
Once favored to become pope, Scola made his remarks at the Catholic University of the Sacred Heart for the opening of a conference focusing on Roman Emperor Constantine's 313 Edict of Milan granting imperial toleration to Christianity. Scola advocated a "healthy secularism" allowing religious freedom, defined by him as a "true litmus test" for a civilized society. To Scola, this "freedom means above all encouraging religious pluralism and opening to all forms of religious expression," including "eliminating laws that criminally punish blasphemy."
As the Catholic cable television channel EWTN reported online, the role of blasphemy laws in Muslim-majority countries in persecuting Christians and other religious minorities formed the global context of Scola's remarks. As reviewed previously by this writer, the authors of Persecuted: The Global Assault on Christians have extensively documented that "Christians are the single most widely persecuted religious group in the world today," a "terrible trend…on the upswing." Moreover, "it is in the Muslim world where persecution of Christians is now most widespread, intense, and, ominously, increasing." Abolition of Muslim blasphemy laws, often used to prohibit propagation of Christian beliefs contradicting Muslim doctrine, would eliminate one important instrument of Islamic repression.
Such religious freedom would protect not just private rights, but also public peace. "Religious freedom," notes Scola's fellow Catholic, Professor Thomas F. Farr of Georgetown University's Berkley Center for Religion, Peace, & World Affairs, "the evidence shows, can be an antidote to religion-related extremism, including terrorism." Freedom, analyzes Farr, dilutes fanaticism by forcing various faiths to justify their claims intellectually without coercion in a marketplace of ideas. "What if," speculates Farr,
Osama Bin Laden had been raised in a Saudi Arabia that allowed for religious freedom? What if, instead of being steeped exclusively in the toxic teachings of Wahhabism and Sayyid Qutb, he had been exposed to other forms of Islam, to critics of Islam, to other forms of religious belief, and to liberal religion-based arguments about justice and the common good?
Christians like Scola and Farr have a perfectly sound theological basis for faith-based advocacy of religious freedom. As the prominent Protestant pastor and theologian John Piper has written, numerous Biblical verses relate that "Christ did his work by being insulted" in stark contrast to Islam in which the "work of Muhammad is based on being honored." As the somewhat religiously eclectic but committed freethinker Thomas Jefferson wrote to a majoritarian-Christian America in his landmark 1779 (adopted 1785) Virginia Statute for Religious Freedom, "all attempts to influence" individual religious belief
by temporal punishments, or burthens, or by civil incapacitations…are a departure from the plan of the holy author of our religion, who being lord both of body and mind, yet chose not to propagate it by coercions on either, as was in his Almighty power to do, but to extend it by its influence on reason alone.
Ironically, Christian calls for religious freedom with respect to Islam would manifest precisely the Christian concept of the "church militant" (ecclesia militans). Muslim entities like the 57 Muslim-majority member states (including "Palestine") of the Organization of Islamic Cooperation (OIC) have often tried to hide advocacy of de facto Islamic blasphemy laws behind a supposedly "ecumenical veneer" of opposition to "defamation of religion" in general. Christian calls for religious freedom, come what may in criticism and/or condemnation of any particular faith, ostentatiously breaks ranks with this united front claimed by some Muslims, leaving them to defend religious repression on their own.
European opponents of blasphemy laws like Scola, though, will have to begin actually with their own continent. Scola's native Italy as well as seven other European countries (out of a total of 45, or 18%) had blasphemy laws according to a 2011 Pew Forum on Religion and Public Life study. Somewhat similar to blasphemy laws, laws against "defamation" of religion also existed in 36 European countries (80%), while collectively religious restrictions of various sorts exist in 47% of countries worldwide.
As many have already noted (see here, here, and here), ultimately arbitrary European enforcement of such laws today more often than not involve the Islamic faith of recently arrived immigrant communities, not Europe's historically dominant Judeo-Christian beliefs. Accordingly, concerns about limiting free speech with respect to Islam played a role in the 2012 abolition of the blasphemy law in one of the eight European countries listed by Pew in 2011, Holland. The Dutch precedent is a model to follow for all faithful people who believe that they have a religious truth that will set free, a truth that need not fear freedom.
"

Burn their homes to the ground … Punish them such that they forget Gojra and Joseph Colony,"
Tensions high where politician who lost election strives to incite violence.
A Muslim political candidate suspected of murdering a Christian has instigated calls from mosque loudspeakers for attacks on Christians, whom he blames for his May 11 election loss.
Tensions were high in Punjab Province's Okara district after provincial assembly seat candidate Mehr Abdul Sattar, sought by police in connection with a 2008 murder, on May 13 arranged for mosque calls for violence against Christian villages.
"Burn their homes to the ground … Punish them such that they forget Gojra and Joseph Colony," blared village mosques in the district, according to Younas Iqbal, chairman of the Anjuman-e-Mazareen Punjab, a peasant movement fighting for land rights.
Iqbal told Morning Star News by phone that that when unofficial election results were announced on May 12, Sattar's supporters ambushed a convoy of about 100 Christians on their way to congratulate his opponent on his victory.
"They destroyed two motorcycles and threw them in the canal, besides damaging a tractor,"

Iqbal said.

"We went to the Okara Saddar Police Station to register a case, but the police officials refused to move against Mehr."
By Joe Brock
MAIDUGURI (Reuters) - Nigeria claimed an early success for its military offensive against Islamist insurgents in the northeast on Monday, saying the militants' activities had been stifled by nearly a week of attacks on their bases.
Military officers in the combat zone, deep in a semi-desert frontier region, said operations continued and that troops faced considerable opposition from well-armed Boko Haram fighters.
A presidential spokesman issued a statement saying the biggest drive yet against the four-year-old rebellion had made progress since President Goodluck Jonathan declared a state of emergency in three troubled states last Tuesday.
"The insurgents have been dislodged from their previously safe havens and camps while many have been apprehended, and their activities in the affected states have been brought to a total halt," he said of operations around Lake Chad, along Nigeria's northeastern borders with Cameroon, Chad and Niger.
Thousands of additional troops have been deployed in the states of Borno, Yobe and Adamawa in an operation that has targeted areas of Africa's top energy producer where Boko Haram has established bases and weapons dumps. Warplanes were used to destroy some militant camps on Friday.
Jonathan has won support for decisive action, although many doubt whether Boko Haram, adept at going into hiding under pressure and then resurfacing, can be defeated militarily.
A record of human rights abuses by the Nigerian armed forces has seen Western powers voice concern about the offensive.
More Christians Killed in Northern Nigeria Last Year Than in the Rest of the World Combined
---
Islamists are heading south. The intentions are
clear, they intend to overt
ake
the entire African continent
---
Two weeks ago I informed Nigerian Congressmen and women about this deplorable disrepute during my lecture to the Nigerian House of Representatives, Committee on Human Rights. Invited by the Chairman of the Committee, the Hon. Beni Lar, to address the topic of Ethnicity, Conflict, and Human Rights, I pointed out that the Nigerian Constitution reflects the broadest range of religious freedom exercise recognized within international law. I asked, "What good is this right in principle when in practice there is a societal actor, namely the Boko Haram, which strikes fear with bomb blasting of churches during worship services?" I called for an end to impunity because the predictable and certain result of impunity is more violence. I explained what it means within U.S. law that the U.S. Commission on International Religious Freedom (USCIRF), a U.S. government funded agency, had just submitted its recommendation that Nigeria receive US Department of State designation as a "country of particular concern" under the 1998 International Religious Freedom Act which would trigger a menu of remedies for engagement.
It seems that the Nigerian government is seeking to contain known militants responsible for weekly incidents of carnage and destruction on civilians. We continue to encourage the end to impunity and the restoration of peace for all civilians in the north of Nigeria.
By Ann Buwalda
http://www.jubileecampaign.org
MAY 20 2013
Knesset discusses security measures at holy site, will consider building a roof over the compound.
Can't they just shoot and kill the sons of bitches for throwing the bombs? If they do nothing, they will get more bombs. Israeli leadership is just like Americas....worthless and incompetent. And they are supposed to be protecting their citizens. Bullshit!!
Rachel's Tomb
Israel news photo: Flash 90
The Knesset's Foreign Affairs and Defense Committee discussed the security situation at Rachel's Tomb near Bethlehem in Monday. It appears that a roof may be built over the compound, to protect the worshipers inside from incessant Arab attacks.
The IDF told Knesset Members that about 200 firebombs and 90 improvised explosive devices (IEDs) have been thrown at the compound since November's Pillar of Defense military operation in Gaza. That means an average of almost two bombs a day.
The military said that the very tall walls that have been constructed around the compound – nine meters high, or almost 30 feet – have not sufficed to provide security.
Committee Chairman Avigdor Lieberman instructed the military to examine plans that were drawn up a long time ago, to add a roof over the compound, in order to provide security for the worshipers inside. The military is to go back to the committee and report on its findings in a month's time.
MK Orit Struk said after the discussion, "I am pleased with the results of the discussion and I hope that we will have the privilege of seeing Rachel's Tomb turn from a bunker into a proper place of worship. I thank the IDF and the Border Police for the efforts they have been making in order make the place secure."
Coalition Chairman MK Yariv Levin called the instruction to reexamine security arrangements "important" and predicted that it would lead to the protection of worshipers and of security personnel.
You made it happen.
Damned Muslims!

It's been a few years now that everyone has been obsessed with bacon. I mean, obviously everyone (aside from vegetarians and vegans) has always loved bacon, but I feel like in the mid-2000s the bacon love really ramped up with everyone from hipsters to foodies to hipster foodies.
Some bacon-lovers in San Francisco love the pork product so much they decided to make a restaurant that centers around serving bacon. Its name? Bacon Bacon, of course. The restaurant serves dishes like fried chicken wrapped in bacon, bacon scones, bacon grilled cheese, and more. Everything was going swimmingly for the year-and-a-half old eatery until nearby residents started to complain about the smell.
Bacon does have a very pervasive smell. I made it the other week and my apartment smelled like bacon for two days after, I swear. So I'm a little sympathetic to people who have to live near Bacon Bacon…I mean, maybe they don't want to smell bacon all the freaking time, you know? Ryan Patterson, a lawyer who is representing one of the complainants, said:
"Depending on the wind patterns day to day, there were strong odors of bacon. This is a restaurant that specializes in bacon and is called Bacon Bacon — and it did smell like bacon."
I guess even the New York Jet6s have to have an ass hole on their team. unfortunately, this horses ass will become a hero. While Tim Tebow gets ridiculed for praying before play.

HEY ODAY!!! This is for you....
Oday Aboushi leads a double life. On the one hand, he is an American football player with professional-level athletic skills. On the other, he is a fundamentalist Muslim with radical associations and a heritage that pushes him towards a destructive world of violence and hate.
When the New York Jets football team chose Oday Aboushi with the eighth pick of the fifth round of the April 2013 NFL Draft (141st pick overall), the organization knew that it was getting an elite player who could wreak havoc on the field – one of the top offensive linemen in the entire draft. At 6-foot-5, 310 pounds, no doubt, Abousi is an imposing figure. What the Jets didn't know, though, was the type of havoc he could potentially cause off the field.
Although Aboushi was born and raised in Brooklyn, New York, he proudly refers to himself as a "Palestinian-American." His parents both arrived in the U.S. from the town of Beit Hanina in the West Bank. The first time he had been to the area was during his freshman year of college. In an article published by ESPN, the sports network stated about Aboushi's trip, "It was a completely different world, although filled with the same kinds of people he knew growing up in Brooklyn."
One long-time friend of the family is Linda Sarsour, a rabid anti-Israel activist, who has Hamas-related family serving prison sentences in Israel and has herself been questioned by U.S. authorities. Less than one year ago, Sarsour posted on her Twitter account, "Nothing is creepier than Zionism." In a May 2012 tweet, she claimed that the al-Qaeda "Underwear Bomber," Umar Farouk Abdulmutallab, who plotted to blow up a civilian aircraft, was actually a CIA operative.
E xcuse me!!! Excuse me!! Isn't America the land of the free? The land that has a Constitution? A Constitution which is the law of the land and contains Freedom of the Press??!! This administration has gone too far!
The Justice Department spied extensively on Fox News reporter James Rosen in 2010,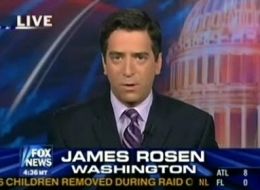 collecting his telephone records, tracking his movements in and out of the State Department, and seizing two days of Rosen's personal emails, the Washington Post reported Monday.
In a chilling move sure to rile defenders of civil liberties, an FBI agent also accused Rosen of breaking the law with behavior that -- at least as described -- falls inside the bounds of traditional news reporting. (Disclosure: This reporter counts Rosen among his friends).
The revelations surfaced with President Barack Obama's administration already under fire for seizing two months of telephone records of reporters and editors at the Associated Press. Obama last week said he makes "no apologies" for investigations into national security-related leaks. The A.P.'s CEO, Gray Pruitt, said Sunday that the seizure was "unconstitutional."
The Obama administration has prosecuted twice as many leakers as all previous administrations combined.
"The president is a strong defender of the First Amendment and a firm believer in the need for the press to be unfettered in its ability to conduct investigative reporting and facilitate a free flow of information," White House press secretary Jay Carney insisted last week. "He also, of course, recognizes the need for the Justice Department to investigate alleged criminal activity without undue influence."
The details of the government's strategy against Rosen sound like something out of a spy novel.
Investigators looking into disclosures of sensitive information about North Korea got Rosen's telephone records and a warrant for his personal emails but also used his State Department security badge to track his movements in and out of that building, the Post reported, citing court documents.
The case began when Rosen reported on June 11, 2009, that U.S. intelligence believed North Korea might respond to tighter United Nations sanctions with new nuclear tests. Rosen reported that the information came from CIA sources inside the hermetic Stalinist state.
Investigators zeroed in on State Department arms expert Stephen Jin-Woo Kim, who was among a small group of intelligence officials to receive a top-secret report on the issue the same day that Rosen's piece ran online.
But FBI agent Reginald Reyes wrote that there was evidence Rosen had broken the law, "at the very least, either as an aider, abettor and/or co-conspirator," the Post said.
Here is how the Post described Reyes' report:
Using italics for emphasis, Reyes explained how Rosen allegedly used a "covert communications plan" and quoted from an e-mail exchange between Rosen and Kim that seems to describe a secret system for passing along information.




In the exchange, Rosen used the alias "Leo" to address Kim and called himself "Alex," an apparent reference to Alexander Butterfield, the man best known for running the secret recording system in the Nixon White House, according to the affidavit.




Rosen instructed Kim to send him coded signals on his Google account, according to a quote from his e-mail in the affidavit: "One asterisk means to contact them, or that previously suggested plans for communication are to proceed as agreed; two asterisks means the opposite."




He also wrote, according to the affidavit: "What I am interested in, as you might expect, is breaking news ahead of my competitors" including "what intelligence is picking up." And: "I'd love to see some internal State Department analyses."
The communications system is a bit cloak-and-dagger-y, but it's not clear from the Washington Post report whether Rosen did anything outside the bounds of traditional reporting. People who know Rosen will smile at the Alexander Butterfield reference: The tenacious Fox News reporter is known as a Beatles fanatic, Tom Wolfe devotee, and Watergate obsessive.
David Horowitz: We need leaders like Ted Cruz. And that's why we are honored to have him on the platform today.

Click on the photo above to view video

We need more leaders like Ted Cruz

MAY 19 2013
Today, Palestinians and their supporters, as they have done increasingly over the years, mark what they call the naqba (Arabic for catastrophe). It was on this day 65 years ago that Israel came into existence upon the expiry of British rule under a League of Nations mandate.
That juxtaposition of Israel and
naqba
in not accidental. We are meant to understand that Israel's creation caused the displacement of hundreds of thousand of Palestinian Arabs.
But the truth is different. A British document from early 1948, declassified only weeks ago,
tells the story
: "the Arabs have suffered a series of overwhelming defeats…. Jewish victories … have reduced Arab morale to zero and, following the cowardly example of their inept leaders, they are fleeing from the mixed areas in their thousands."
In other words, Jew and Arabs, including irregular foreign militias from neighboring states, were already fighting and Arabs fleeing even
before
Israel had sovereign existence.
Thus, on May 15, what is now called the
naqba
consisted, not of an Israeli act of forcible displacement of Arabs, but of neighboring Arab armies and internal Palestinian militias responding to Israel's declaration of independence and Britain's departure with full-scale hostilities. Tel Aviv was bombed from the air and the head of Israel's provisional government, David Ben Gurion, delivered his first radio address to the nation from an air-raid shelter.
Israel successfully resisted invasion and dismemberment — the universally affirmed objective of the Arab belligerents — and Palestinians came off worst of all from the whole venture. At war's end, over 600,000 Palestinians were living as refugees under neighboring Arab regimes.
So the term naqba is misleading. Indeed, it smacks of falsehood, inasmuch as it implies a tragedy inflicted by others. The tragedy, of course, was self-inflicted.
By Hamid Shalizi


KABUL (Reuters) - Afghan President Hamid Karzai plans to discuss potential arms deals with Indian officials during a trip to New Delhi this week, officials said, at a time when tensions are running high on Afghanistan's disputed border with Pakistan.

Kabul's overtures to New Delhi are likely to rile Islamabad where a new government led by two-time prime minister Nawaz Sharif is set to take office soon, promising improved ties with India.

Pakistan has long resisted Indian involvement in Afghanistan, seeing it as a plan to encircle it, and any fresh wrangling between the rivals would add to Afghanistan's problems as the Western military withdrawal draws near.

Karzai's spokesman Aimal Faizi said the Afghan leader would discuss in New Delhi the flare-up on the Durand Line, the colonial-era border between Afghanistan and Pakistan, in addition to ways to strengthen Afghan security institutions.

"Afghanistan has already agreed and signed a strategic pact with India and based on that agreement, India assists Afghanistan on several grounds, including the military sector," Faizi said.

"In order to strengthen Afghan security forces, we will ask India to help us with military needs and shortages," he said.

After crushing Mali Islamists, France pushes deal with Tuaregs
By David Lewis
BAMAKO (Reuters) - After winning adulation across Mali for a five month military offensive that crushed al Qaeda fighters, France is now frustrating some of its allies by pushing for a political settlement with a separate group of Tuareg rebels.
A standoff over how to restore Malian government authority to Kidal, the last town in the desert north yet to be brought under central control, is sowing resentment with Paris and could delay planned elections to restore democracy after a coup.
Mali's army has moved troops towards Kidal, a stronghold of the MNLA Tuareg separatists, but missed a self-imposed deadline this week to retake the Saharan town. France, which has its own forces camped outside, does not want Malian troops to march on the town, fearing ethnic bloodshed if it is taken by force.
"Paris blocks army at the gates of Kidal," read a headline in Le Matin, a weekly in Mali's capital Bamako.
Elections are planned for July in Mali to finally restore normalcy after a chaotic 18 months that saw Tuaregs launch a revolt, the military carry out a coup, al Qaeda-linked Islamists seize the north and 4,000 French troops arrive to dislodge them.
Many in government and on the streets of Bamako blame the January 2012 uprising by the Tuareg MNLA for unleashing the other calamities that nearly dissolved the country. Nationalists now want the army to march into Kidal to disarm the rebels.
France is instead backing secretive talks being held in neighboring Burkina Faso, designed to allow the July elections to take place, while urging Bamako to address Tuaregs' long-standing demands for autonomy for their desert homeland.
Clashes between Arabs and Tuaregs have shown that ethnic tension remains high.
BY ANDREW LARSON

REPUBLICAN-AMERICAN
Waterbury CT -

A man conducting business from his parents' Wolcott home has been charged with wire fraud after federal agents found he was running a Ponzi scheme, according to court documents.
Feisal Sharif

of Branford is accused of fraudulently soliciting about $5.4 million from at least 50 people to invest in commodity futures through his company, First Financial LLC, according to the complaint.
He is the son of Majeed Sharif, president of the

United Muslim Mosque

on Prospect Street in Waterbury. The mosque is not named in court documents, but the complaint against Feisal Sharif says his "investors" included family, friends, acquaintances and members of his religious institution.
"

We allege that this defendant operated a Ponzi scheme, using hundreds of thousands of dollars from victim-investors to pay other investors,"

stated U.S. Attorney Fein.

"I commend the FBI, U.S. Postal Inspection Service, CFTC and Connecticut's Department of Banking for their quick and expert work in shutting down this scheme. The investigation is ongoing, and I encourage any potential victims or anyone with information related to this scheme to contact law enforcement."
Citizens with information that may be helpful to the investigation are encouraged to contact FBI Special Agent Mark Munster at (203) 777-6311.
MAY 18 2013
A debate by Afghan MPs about beefing up a law to prevent violence against women has been halted amid angry scenes.
Parliament's speaker ended the debate after 15 minutes after traditionalists called for the law to be scrapped.
A law banning violence against women, child marriages and forced marriages was passed by presidential decree in 2009, but did not gain MPs' approval.
'Lack of assurance'
The decision to seek parliamentary approval for the law had split women activists.
Some had said opening it up for debate in parliament could pave the way for conservatives to amend it and weaken protection for women - or even throw it out altogether.
One of those against the move was prominent MP Farkhunda Zahra Naderi. She told the BBC after Saturday's events in parliament that her fears had been proved right.
Afghanistan's Law to Eliminate Violence Against Women, remains in force. It was signed by President Karzai in 2009 and did not need parliamentary approval.
But nothing is certain in this young democracy, and those who brought it to parliament, led by a potential presidential candidate, Fawzia Koofi, wanted it approved there so it was irreversible. But women activists who feared that debating it would give a platform to the most fundamentalist voices were proved right. Its withdrawal for now puts further progress on women's rights into legal limbo.
There have been hundreds of successful prosecutions under the law - some resulting in jail terms. But changing attitudes in the Afghan countryside will take more than a change in the law, and the failed debate will strengthen the hand of fundamentalists who see the law as opposed to Sharia.
During the debate, mullahs and other traditionalist MPs accused President Karzai of acting against Islamic Sharia law by signing the decree in the first place, the BBC's David Loyn reports from Kabul.
In particular, they demanded a change to the law so that men cannot be prosecuted for rape within marriage, our correspondent said.
One of those who had sought to enshrine the decree with parliamentary approval is leading MP Fawzia Koofi, who survived a Taliban ambush two years ago.
She had worried that if the law did not have parliamentary backing it could be weakened as Afghan leaders attempt to pacify the Islamist Taliban movement.
"There is a lack of assurance that any president of Afghanistan will have any commitment to women's issues and in particular towards this decree," Ms Koofi told the BBC before the debate.
President Karzai has come under fire from women's groups for frequently changing his position on women's rights.
In 2012, he endorsed a "code of conduct" issued by an influential council of clerics which allows husbands to beat wives under certain circumstances.
Ms Koofi and fellow activists have argued that the law is similar to those in many other Islamic countries.
The existing law will now remain in force while further discussions on procedure are held, our correspondent says.
Despite the efforts taken to enhance rights for women and girls in Afghanistan, child marriages remain common and stories of abuse keep coming to light.
Most Afghans still live in rural areas, where poverty, conflict and conservative attitudes are more likely to keep girls and women at home.
It's sad to see the festival canceled, but it's probably in

Dearborn's
best interest to cancel it. Terry Jones and Ruben Israel were coming to the festival to protest, and some of the attendees don't respond well to protesters. The city has made some important strides over the past few years, mostly due to the persuasive power of lawsuits. However, until the citizens of Dearborn can somehow convince young people not to react violently to constitutionally protected free speech, it's better not to draw a crowd.
Not surprisingly, Niraj Warikoo of the Detroit Free Press is blaming the cancelation on "aggressive" Christian "extremists," and not on the security guards who assaulted us in 2009, or on the police officers who arrested us in 2010 for having a peaceful discussion (and, two days later, took us into custody for distributing Bibles outside of the festival), or on the young Muslims who chased a preacher out of the festival in 2011, or on the young Muslims who viciously attacked Ruben Israel's group in 2012. For the Detroit Free Press, problems at the festival are always caused by Christians, even if the Christians are bleeding after being pelted with rocks. I wonder if Niraj will ever realize that, by refusing to hold Muslims accountable for their actions, he's treating them like children, and engaging in a subtle form of racism (the racism of lowered expectations).
Reach him by email: nwarikoo@freepress.com,

OFF THE GRID
OFF THE GRID is where we go off topic....but not necessarily off importance

Fox Carolina - A dog in South Carolina has adopted this kitten as her own.A South Carolina resident called police on Monday to report she'd heard a dog barking since Saturday. When animal control officer Michelle Smith followed the noise down a steep embankment to a ravine, she found a 5-year-old dog - who was nursing a tiny kitten. "I'm thinking that it just couldn't get back up with the kitten, and I don't think it was willing to leave the kitten," Smith said.

The officer brought the pair to a local shelter, Anderson County P.A.W.S., where the staff is now supplementing the dog's nursing with bottles. They said the dog appeared to be someone's pet, and they're hopeful that her owner will come to claim her - and to make the kitten a part of their home, too. - Watch it at Fox Carolina


GO GENE SIMMONS!!

After sparking outrage with anti-Islam comments on Melbourne radio station, Israeli-born musician explains he was specifically referring to 'extremists'

Legendary rock legend Gene Simmons sparked outrage in Australia earlier this month when he made anti-Muslim comments on a Melbourne radio station.

"This is a vile culture and if you think for a second that it's willing to just live in the sands of God's armpit, you've got another thing coming," the Israeli-born musician said on Melbourne's 3AW radio.

"They want to come and live right where you live and they think that you're evil. Extremism believes that it's okay to strap bombs onto your children and send them to paradise and whatever else and to behead people," he continued.

The Kiss bassist, who was in Australia on tour, continued on his anti-Muslim rant for over a minute stating that dogs were treated better than Muslim women, and insinuating that the West was under threat.

"Your dog, however, can walk side by side, your dog is allowed to have its own dog house... You can send your dog to school to learn tricks, sit, beg, do all that stuff - none of the women have that advantage," Simmons stated.

Simmons said that the United Nations approach was not effective, suggesting that the West had to "speak softly and carry a big stick."
Simmons has since defended his comments, stating "I was asked about extremists, and that's what I was talking about – only extremists." (AND ITS THE EXTREMISTS WHO RULE THE MUSLIM WORLD, MAKE THE iSLAMIC DECISIONS AND RULE THE MUSLIM MEN AND WOMEN)



London - According to a new analysis of 2011 UK census, one in 10 people under 25 are Muslim, Christianity is declining 50 percent faster than previously thought and in 10 years Islam may become the dominant religion with only a minority identifying as Christian.

The analysis of the 2011 UK census by the Office for National Statistics (ONS) revealed that earlier analysis which showed only a 15 percent decline in Christianity was bolstered about 1.2 million foreign-born Christians such as Polish Catholics and Nigerian evangelicals. That is, foreign-born Christian immigrants masked the extent of decline of Christianity among the British-born population.
The Telegraph reports that the latest analysis showed that there were 5.3 million fewer British-born people professing Christianity, a decline of 15 per cent in a decade, and about 6.4 million increase in people describing themselves as having no faith.
In the same period, the number of of people professing Islam in England and Wales rose sharply by 75 percent. This massive surge was caused by about 600,000 foreign-born or immigrant Muslims. (The average Brit can thank his loyal leader for this mess.)
In our deeply partisan politics of today there is one area where it is hard to find the truth spoken by either Republicans or Democrats. It is the idea that Muslim people yearn for democracy. This is a glaring shortsightedness that both sides hold in common.

To be clear, many of my Muslim friends long for Western-style democracy and freedom. But they are always thwarted (and always will be) by the majority view that prevails in their countries. That is why even those friends of mine would admit that democracy is incompatible with Islamic ideology.

[...]
And when President Obama speaks of Muslims yearning for freedom just as Americans do, one must ask: whose definition of freedom is he talking about?

Well over 90 percent of the Islamic states that signed the United Nations Universal Declaration of Human Rights—and the right to freedom of religion that is contained within it—would immediately qualify it by declaring that "freedom" means freedom to be a slave of Allah and nothing more.

That is why the definition of freedom is so important. Using that emotive word sounds good in the Western press, but it is meaningless in Islamic culture. Just take a look at the president's efforts in Libya, Tunisia, and Egypt for confirmation.

To get a taste of the dominant view of Islamic ideology, one need only watch the countless videos of Islamic religious leaders available on the Internet. Videos like the one of Egyptian Cleric Sheik Murgan Salem after the Boston bombing will help skeptics understand why I hold such contrarian opinions.

Those men do not speak only for a few; they speak for the vast majority. Regardless of whether it's the one who declares that U.S. aid is a jizya (under Islamic law, jizya is a per capita tax levied on a section of an Islamic state's non-Muslim citizens, who meet certain criteria) that infidels must pay to Muslims, or the one who says that Islam will one day dominate the West, they all prove the folly of not facing the facts.


Please read the entire commentary

HERE
MAIDUGURI, Nigeria (Reuters) - Nigerian warplanes struck militant camps in the northeast on Friday in a major push against an Islamist insurgency, drawing a sharp warning from the United States to respect human rights and not harm civilians.

Troops used jets and helicopters to bombard targets in their biggest offensive since the Boko Haram group launched a revolt almost four years ago to establish a breakaway Islamic state and one military source said at least 30 militants had been killed.

But three days after President Goodluck Jonathan declared a state of emergency in the northeast, U.S. Secretary of State John Kerry issued a strongly worded statement saying: "We are ... deeply concerned by credible allegations that Nigerian security forces are committing gross human rights violations, which, in turn, only escalate the violence and fuel extremism."

The United States is the biggest foreign investor in Africa's most populous nation, notably in its energy sector, and buys a third of Nigeria's oil. Washington "condemns Boko Haram's campaign of terror in the strongest terms", Kerry said, but urged Nigeria's armed forces to show restraint and discipline.
If Kerry condemns Boko Haram, then let the Nigerians do their jobs. Kerry should keep his mouth shut.

Nigerian defence spokesman Brigadier-General Chris Olukolade said in a statement that troops destroyed several Boko Haram camps and weapons stockpiles in forests around Borno state, epicentre of the uprising and relic of a medieval Islamic empire: "Heavy weapons including anti-aircraft and anti-tank guns were also destroyed in the process," he said.

"The special operations ... resulted in the destruction of much of the insurgents' weapons and logistics such as vehicles, containers, fuel dumps and power generators."

CAIRO (AP) — The pale, young Christian woman sat handcuffed in the courtroom, accused of insulting Islam while teaching history of religions to fourth-graders. A team of Islamist lawyers with long beards sang in unison, "All except the Prophet Muhammad."
The case against Dimyana Abdel-Nour in southern Egypt's ancient city of Luxor began when parents of three of her pupils claimed that their children, aged 10, complained their teacher showed disgust when she spoke of Islam in class. According to the parents, Abdel-Nour, 24, told the children that Pope Shenouda, who led the Egyptian Coptic Church until his death last year, was better than the Prophet Muhammad.
"

Salafis are the engineers of these stories,"
Blasphemy charges were not uncommon in Egypt under the now-ousted autocrat Hosni Mubarak's regime, but there has been a surge in such cases in recent months, according to rights activists. The trend is widely seen as a reflection of the growing power and confidence of Islamists, particularly the ultraconservative Salafis.
"Salafis are the engineers of these stories," said Abdel-Hamid Hassan, a Muslim and the head of the parents' council at the primary school where Abdel-Nour teaches. Hassan's daughter was among several students who denied any wrongdoing by Abdel-Nour.
MAY 17 2013
(CNN)

-- A federal court has sentenced two Minnesota

(Muslim)

women to lengthy prison sentences for soliciting donations in the name of charity, then funneling the funds to Somali militants.
Authorities said the two
(Muslim)
(Muslim)
(Muslim)
(Muslim)

women went door-to-door in Somali neighborhoods in the U.S. and Canada, seeking contributions.
Amina Farah Ali

, 36, got

two decades in prison

on 13 terror-related counts that include providing material support to Al-Shabaab.
Hawo Mohamed Hassan

, 66, got half of that on one count of conspiracy to support a terror group and lying to authorities.
Both
(Muslim)
women, naturalized U.S. citizens from Somalia, were convicted in October 2011.

They were sentenced Thursday in Minneapolis.
Evidence presented at their trial showed they supported the terror group between 2008 and 2009, according to B. Todd Jones, a United States Attorney.
Teleconference appeal for Al-Shabaab
"Ali communicated by telephone with Somalia-based members of Al-Shabaab who requested financial assistance on behalf of the group,"

Jones said in a statement.

"Ali often sought the money under false pretenses, contending that it was to help the poor."
In both years, authorities said, she hosted teleconferences and urged listeners to give money to the terror group instead of the poor.
In one instance, she recorded $2,100 in pledges at the conclusion of that teleconference, according to officials.
She would then funnel the funds to the terror group using various remittance companies under false names.
'Questioned by the enemy'
Ali has maintained that the funds were for the poor, but authorities said monitored phone calls reveal otherwise.
"On July 14, 2009, the day after the FBI executed a search warrant at Ali's home, she telephoned her primary Al-Shabaab contact, saying,

"I was questioned by the enemy here . . . they took all my stuff and are investigating it . . . do not accept calls from anyone."
Hassan, on the other hand, made false statements when questioned by federal agents about international terrorism, Jones said.
From Minneapolis to Somalia
The sentencing Thursday is the latest in federal investigation in Minneapolis -- home to the nation's largest Somali population.
The
(Muslim) (muslim)

women were among a group sentenced this week in the federal government's probe focusing on Al-Shabaab, which is believed to recruit young men in the Minneapolis area. The U.S. has designated it a terrorist group, and has said it has ties to al Qaeda.
In recent years, about 20 Somali-American men have traveled from the area to Somalia to train with the terror group, and some have gone on to fight with the militants, according to U.S. officials.
(I hope they all were killed)
Not Optimistic about Economy or Certain They Are Better Off Post-Mubarak
EGYPT -
Two years after the overthrow of Hosni Mubarak, the Egyptian public mood is increasingly negative. Month after month of political uncertainty, a weak economy and often violent street protests have taken their toll, and today a majority of Egyptians are dissatisfied with the way their new democracy is working.
There is a consensus, however, regarding the United States –overwhelmingly, Egyptians see the U.S. negatively. Despite President Barack Obama's efforts to improve America's image in the Arab world, beginning with his famous June 2009 Cairo speech, his ratings have slipped steadily in Egypt since he took office, and ratings for the U.S. are lower now than they were during the Bush administration. Moreover, few Egyptians place much value on a close relationship with the U.S.

Fuck 'em!! Cut off their aid. How many billions of dollars do we send to the savage country? Stop the money flow now!!

Outstanding!! Congrats to NY and Fedaral authorities!!

Some of those arrested in the federal bust have links to Omar Abdel-Rahman, the blind sheik, and Rashid Baz, who opened fire on a van of Yeshiva students on the Brooklyn Bridge, killing Ari Halberstam. 'We're concerned because similar schemes have been used in the past to help fund terrorist organizations like Hamas and Hezbollah,' says Police Commissioner Raymond Kelly.



Where's the money?
Federal authorities Thursday scrambled to find millions of dollars in profits a smuggling ring that sold cheap cigarettes to bodegas across New York may have used to fund terrorism in the Middle East.
Three of those charged in the sophisticated conspiracy were linked to known terrorists, including Hamas, the group that controls the Gaza Strip and has vowed to wipe Israel off the map, officials said.



Islamic Forced Conversions—Past and Present
Raymond Ibrahim

The lost history of Christians forced to convert to Islam—or die—is reemerging, figuratively and literally. According to the BBC: "Pope Francis has proclaimed the first saints of his pontificate in a ceremony [last Sunday] at the Vatican—a list which includes 800 victims of an atrocity carried out by Ottoman soldiers in 1480.They were beheaded in the southern Italian town of Otranto after refusing to convert to Islam."

The BBC adds in a sidebar: "The 'Martyrs of Otranto' were 813 Italians beheaded for defying demands by Turkish invaders to renounce Christianity. The Turks had been sent by Mohammed II, who had already captured the 'second Rome' of Constantinople."

Historical texts throughout the centuries are filled with similar anecdotes, including the "60 Martyrs of Gaza," Christian soldiers who were executed for refusing Islam during the 7th century Islamic invasion of Jerusalem. Seven centuries later, during the Islamic invasion of Georgia, Christians refusing to convert were forced into their church and set on fire. Witnesses for Christ lists 200 anecdotes of Christians killed—including by being burned at the stake, thrown on iron spikes, dismembered, stoned, stabbed, shot at, drowned, pummeled to death, impaled and crucified—for refusing to embrace Islam.

[...]
Consider some recent anecdotes:

In Pakistan, a "devoted Christian" was butchered by Muslim men "with multiple axe blows [24 per autopsy] for refusing to convert to Islam." Another two Christian men returning from church were accosted by six Muslims who tried to force them to convert to Islam, but "the two refused to renounce Christianity." Accordingly, the Muslims severely beat them, yelling they must either convert "or be prepared to die. . . . the two Christians fell unconscious, and the young Muslim men left assuming they had killed them."

In Bangladesh some 300 Christian children were abducted in 2012 and sold to Islamic schools, where "imams force them to abjure Christianity." The children are then instructed in Islam and beaten. After full indoctrination they are asked if they are "ready to give their lives for Islam," presumably by becoming jihadi suicide-bombers. (Even here the historic patterns are undeniable: for centuries, Christian children were forcibly taken, converted to and indoctrinated in Islam, trained to be jihadis extraordinaire, and then unleashed on their former Christian families. Such were the Janissaries and Mamelukes.)



MAY 16 2013
HOORAY!!! Another nail in Obamas coffin!!

The Justice Department temporarily lost track of two known or suspected terrorists who were in the witness protection program -- and allowed others on the no-fly list to board commercial flights -- according to a watchdog report which fueled criticism of the administration.

"This is gross mismanagement -- pure and simple," Rep. Bob Goodlatte, R-Va., chairman of the House Judiciary Committee, said in a statement.

The allegations were made in an inspector general report released Thursday. The report found agencies in the department did not properly share the new identities of some in witness protection -- the lapse meant those new names were not updated in the no-fly list.

"Therefore, it was possible for known or suspected terrorists to fly on commercial airplanes in or over the United States and evade one of the government's primary means of identifying and tracking terrorists' movements and actions," the report said.

The report said "some" in the program were able to do just that.

The inspector general's office also said the U.S. Marshals Service, as of last July, was "unable to locate" two former participants who were known or suspected terrorists, and that they were thought to be outside the U.S. The report said the department "did not definitively know" how many known or suspected terrorists had been admitted into the program either.

Though the Justice Department says these problems have in large part been corrected, Republicans seized on the report as another example of administration mismanagement. The DOJ is already under fire for seizing journalist phone records, while the IRS faces criticism for a practice of singling out conservative groups.

Goodlatte said the latest report detailed behavior that jeopardized American lives.



On September 11, 2001, America became aware of Islam.

As Robert Spencer, Pamela Gellar, and others have shown, as far as Islam is concerned, neither this infamous attack nor others before and since are anomalous. Rather, from its origins in the seventh century to the present, from Muhammad to bin Laden, Islam has been animated by a violent impulse.

Authors defending this thesis invariably allude to the military conquests of the Prophet, the particularly harsh punitive measures by which Islamic societies deal with transgressors of Islamic law, and any number of passages from the Koran calling for the death of unbelievers. And to be sure, all of this supports their case.

But while such writers may have shown that Islam sanctions violence and oppression, to my knowledge, no one has yet to question, much less explain, why this is so.
Read the rest HERE

THIS is how radical muslims think of America and YOU!!

As police searched for him, and as he lay bleeding in his boat hideout, Boston Marathon bombing suspect Dzhokhar Tsarnaev wrote ..."F*** America" on the side panel of the boat, police in Massachusetts told ABC News.

Officers said they also discovered the phrase "Praise Allah" on the boat's side panels and several anti-American screeds, including references to Iraq, Afghanistan and "the infidels."

A Massachusetts official showed ABC News what he said was a cell phone picture of the phrase "Praise Allah," written in black ink, with a bullet hole above it, believed to have been written by Dzhokhar as he hid inside the boat in Watertown, Mass.

Also seen in the picture was the faintly written word "brother," which the official said was part of a reference by the younger Tsarnaev "that was something about his brother is lucky to be with Allah first."

Tamerlan Tsarnaev was killed hours earlier during a shootout with police several blocks away from the location of the boat.

Boston reservoir tests safe after late-night trespassers nabbed


Massachusetts State Police beefed up patrols around the reservoir that supplies Boston's drinking water after seven foreign students were caught trespassing in the area late at night.

With the city still jittery after the April 15 terror attack at the Boston Marathon, word that two women and five men, reportedly from Saudi Arabia, Pakistan and Singapore, had been found in the restricted area around the Quabbin Reservoir caused concerns. The reservoir serves Boston and some 40 other communities in the area.

"As an extra precaution, water quality samples were analyzed at MWRA's lab yesterday and all came back normal," Ria Convery, of the Massachusetts Water Resources Authority, told the Boston Herald. "There is no evidence of any water quality issues at the Quabbin Reservoir following the trespassing incident."

It was after midnight on Tuesday morning when a state trooper on patrol at the reservoir spotted two cars parked on the grass near one of Quabbin's entrances. The cop investigated and found a group of seven people, five men and two women walking from the water back to their cars. When the police officer asked why they were trespassing, members of the group replied that they were chemical engineers and recent college graduates who had an educational interest in the reservoir, according to police.

The group was briefly held at the scene while background and warrant check were conducted but let go after their records turned up clean.

"There was no evidence that the seven were committing any crime beyond the trespassing," Massachusetts State police spokesman David Procopio told FoxNews.com, adding that officers on the scene checked the vehicles and the park area and did not locate any items out of place or of a criminal nature.

Procopio also said that a preliminary investigation determined the individuals were originally from Pakistan, Saudi Arabia, and Singapore. The Springfield field office of the FBI was contacted by the State Police and is assisting in an investigation.

"Further investigation is being undertaken because of the late hour when they were observed, their explanation for why they wanted to see the reservoir, and the fact that they were in an area marked no trespassing," Procopio said.

Routine checks at numerous watersheds around the state have been stepped up as a precaution, but officials say nothing else has been reported as being out of the ordinary.

The seven individuals, whose identities were not released because of any formal arrest, will be summonsed to appear in a district court for trespassing. A court date is pending, according to officials.


This is whats happening in the UK. Because of political correctness, the Brits look the other way and let the little white girls be turned in whores for muslim men. Time to grow some balls Brits!!

The Oxford grooming ring was promoted by imams who encourage followers to think white women deserve to be "punished", an Islamic leader has claimed.
Dr Taj Hargey, imam of the Oxford Islamic Congregation, said race and religion were inextricably linked to the recent spate of grooming rings in which Muslim men have targeted under-age white girls.

Earlier this week seven members of a child sex ring from Oxford were found guilty of forcing under age girls to commit acts of "extreme depravity".

Their victims, aged between 11 and 15, were groomed and plied with alcohol and drugs before being sexually assaulted and forced into prostitution. They targeted "out of control" teenagers.

Dr Hargey said that the case brought shame on the city and the community and is a set back for cross community harmony.

But worse still is the refusal to face up to its realities, he wrote in the Daily Mail.

The activities of the Oxford sex ring are "bound up with religion and race" because all the men - though of different nationalities - were Muslim and they "deliberately targeted vulnerable white girls, whom they appeared to regard as 'easy meat', to use one of their revealing, racist phrases", Dr Hargey said.

That attitude has been promoted by religious leaders, he believes. "On one level, most imams in the UK are simply using their puritanical sermons to promote the wearing of the hijab and even the burka among their female adherents. But the dire result can be the brutish misogyny we see in the Oxford sex ring."

People tiptoe around the issues and refuse to discuss the problems exposed by the scandals such as those "from Rochdale to Oxford, and Telford to Derby", he wrote.

In all cases the perpetrators were Muslim men and the victims were under age white girls.

To pretend it is not a problem is the Islamic community is "ideological denial", Dr Hargey said.

"But then part of the reason this scandal happened at all is precisely because of such politically correct thinking. All the agencies of the state, including the police, the social services and the care system, seemed eager to ignore the sickening exploitation that was happening before their eyes.

"Terrified of accusations of racism, desperate not to undermine the official creed of cultural diversity, they took no action against obvious abuse."

Islamist rebels execute 11 Syrian soldiers for 'massacres'

BEIRUT: Fighters of the Al-Qaeda-linked Nusra Front in Syria executed 11 men they accused of taking part in massacres by President Bashar al-Assad's forces, a video published on Thursday showed.

A man whose face was covered in a black balaclava shot each man in the back of the head as they kneeled, blindfolded and lined up in a row in the eastern province of Deir al-Zor.

"The sharia court for the eastern region in Deir al-Zor has sentenced to death these apostate soldiers that committed massacres against our brothers and families in Syria," the executioner said on the video.


Islamist militants with black flags shouted "God is great" as each man was shot. The executioner returned to some victims, firing more bullets into them to make sure they were dead.

The video is the second in two days to show such executions by fighters who say they are from Al-Qaeda-linked groups.

A video posted online on Wednesday from the northern province of Raqqa, which is controlled by Islamist rebels, showed three blindfolded men sitting on the curb of a central roundabout before being shot in the head with a pistol.

A man speaking in the video said the executions were revenge for killings in the coastal town of Banias two weeks ago. Photos and videos of the alleged Banias massacre showed dozens of mutilated bodies, many of them children, lying in the streets.

Videos of executions and torture have become increasingly common in Syria, where more than 94,000 people have been killed in a conflict now in its third year, according to the Syrian Observatory for Human Rights, a pro-opposition monitoring group.



Makes me dance with happiness!!
A Belgian convert to Islam, employed by the City Council of Brussels, was sacked because he refused to shake hands with his supervising municipal magistrate, Karine Lalieux (PS), the newspapers Sudpresse and Le Soir reported on Monday.

The municipal magistrate in charge of town council staff, Philippe Close (PS), a explained that the former employee of the Brussels museums refused to shake hands with Karine Lalieux "claiming that his religion prohibited him from touching women".

The man was then summoned to a meeting, an inquiry was conducted and the employee repeated that he would continue to act in that way.

"In the town council administration, we have a duty of neutrality and the staff must exhibit courtesy," he continued, adding that "in these conditions, our judgement was that his work with the town council could not continue".

The town council then made a decision, behind closed doors on 29 April, to dismiss him.

The deputy director of the Centre for Equality of Opportunities and the Struggle Against racism, questioned by the newspapers, expressed the view that Brussels City Council had taken the right decision.

Apps, including Twitter, on a smartphone Saudi Arabia has the highest take-up of Twitter in the world
The head of Saudi Arabia's religious police has warned citizens against using Twitter, which is rising in popularity among Saudis.
Sheikh Abdul Latif Abdul Aziz al-Sheikh said anyone using social media sites - and especially Twitter -

"has lost this world and his afterlife".
Twitter was the platform for those who did not have any platform, he said.
His remarks reflect Riyadh's concern that Saudis use Twitter to discuss sensitive political and other issues.
The conservative kingdom is believed to have seen the world's fastest increase in the uptake of Twitter, says the BBC's Sebastian Usher.
'Losing battle'


MAY 15 2013



...of course its fixed. We known they've done that for years. The ITF has called it the "Obligatory Dead Palestinian Child Photo."

Website claims lab investigation revealed World Press Photo's picture of year of Palestinian funeral procession for children killed in Gaza comprised of number of different photos, seriously enhanced
Swedish photographer Paul Hansen's photo titled "Gaza Burial" portraying a Gaza funeral procession for children killed during Operation Pillar of Defense, is inspiring controversy worldwide in recent days, but this time for artistic – and not political – reasons.


The reason - tech blog Extremtech claims the picture underwent massive manipulation and was put together from a number of different photographs with the help of photoshop.

Despite the fact that Operation Pillar of Defense ended with a considerably low number of civilian fatalities in comparison to Operation Cast Lead four year earlier, upon publication, Hansen's picture hit Israeli hasbara missions hard.


Dr. Neal Krawetz from Extremtech, claims that a lab analysis – in which he specializes – revealed Hansen's photo underwent serious "enhancement" and is a fake or at least "digitally modified."





Egyptian Cleric Sami Abu Al-'Ala Calls on God to Annihilate Jews



Click on the photo above to view video
Saluting Pamela Geller: a Champion of Liberty
By Amil Imani
Pam is devoted and fearless in her drive to educate America on Radical Islam. She is also helpful , cooperative and extremely supportive to the Infidel Task Force
.
Tragically, during these times of great peril, truth is sacrificed by the politically correct, the myopic self-serving in the liberally dominated media, and the ruling class. Against this backdrop, a women of great courage and integrity labors tirelessly in speaking the truth and in the defense of liberty
Pamela Geller's work in objectively revealing the true nature of Islam makes her a valued champion and defender of human dignity with liberty for all, and in particular for women as longstanding victims of Islamic misogyny.
Geller methodically sheds light on the dark nature of Islamic beliefs and the barbaric practices involving the abuse of women in all ways, such as honor-killing, female genital mutilation, child sex-trafficking, forced child brides, severe abuse of homosexuals, and much more under stone-age sharia law. Her work upholds and defends the ideals of human rights.
Please read the rest
HERE
MAY 14 2013
The Shias are more dangerous than naked [women


(Ahlul Bayt News Agency) -

A statement from a member of Parliament of the ultra-conservative Salafist Nour Party has argued that Shia are "more dangerous than naked women" in comments that have brought on an onslaught of sardonic comments as well as anger from Egypt's activist community, who have urged the government to make it clear that discrimination will not be tolerated.

According to a report in al-Ahram – a government-run daily newspaper - members of the committee called on Tourism Minister Hesham Zaazou to discuss the issue in the council, the country's upper house of parliament which is holding legislative powers until a house of representatives is elected.

The committee, headed by Fathy Shehab El-Din of the Freedom and Justice Party (FJP), reportedly had an argument on the effects Iranian tourists could have on Egypt.



"The Shias are more dangerous than naked [women],"

MP Tharwat Attallah of the Salafist Nour Party said during the meeting.
"They are a danger to Egypt's national security; Egyptians could be deceived into [converting to] Shiism, giving it a chance to spread in Egypt,"

he added.
Get the Hell OUT!! It only took 25 years.
Canada tells Palestinian to drag his ass.
Saudis sentence two for helping converts
RIYADH (Reuters) -
A court in Saudi Arabia has sentenced two men to lashes and prison terms for converting a woman to Christianity and helping her flee the conservative Islamic kingdom, the Saudi Gazette reported on Monday.
A Lebanese man was sentenced to six years in prison and 300 lashes for converting the woman, while a Saudi man was sentenced to two years and 200 lashes for aiding her escape abroad, the English-language daily said. It added that the pair had challenged the verdict and would appeal.
A spokesman at the justice ministry could not immediately be reached for comment.
In Saudi Arabia, the birthplace of Islam, it is against the law for Muslims to abandon their faith, a practice known as apostasy. Proselytising for other religions or practicing them openly is also illegal.
The Islamic Society of Boston, the mosque attended by Boston Marathon bombing suspects Tamerlan and Dzhokar Tsarnaev, posted an article on its website in September 2004 that advocated for the beating of women as a last resort to force them to behave.
The Cambridge, Massachusetts-based mosque posted an English translation of Saudi cleric Sheikh Muhammed Salih Al-Munajid's 1997 work, "The Muslim Home: 40 Recommendations in Light of the Quran and Sunnah," which the mosque headlined, "40 Recommendations for the Muslim Home."
"Hinting at punishment is an effective means of discipline, so the reason for hanging up a whip or stick in the house was explained in another report, where the Prophet (peace and blessings of Allah be upon him) said: 'Hang up the whip where the members of the household can see it, for this is more effective in disciplining them,'" the article states.